Sam Samurai
Written by Jon Scieszka
Reviewed by Brek L. (age 8)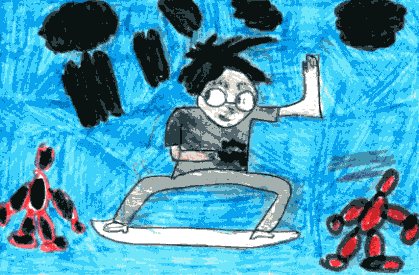 This is the story of three kids who traveled into the past and while time traveling they ended up in Japan and met their great-grandchildren. They learned new languages like Japanese and made new enemies on their visit in Japan.
I though this is was funny story. I liked it because of the funny things that happened. Like when Sam was magically moving his fingers from hand to hand. The story reminds me of when I accidentally went to someone's house and no one was there. That is what happened when the boys first warped to Japan. The only thing unique about this story is all of the very funny things in it, like when they mistook a samurai's helmet as a real head and chopped it off.
I think ages 8 and older could read this because it has some hard words and some violence in it.