The Girl With 500 Middle Names
Written by Margaret P. Hoddix
Reviewed by Frankie R. (age 10)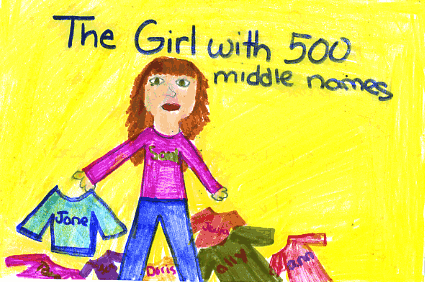 "But Mom, I don't want to move!" Changing schools is bad enough for Janie, but when she walks into her new classroom and sees her new classmates dressed to the nines, she knows fitting in won't be easy. Janie's family can barely get by with her mother working day and night. They could never afford a new outfit. But when Janie gets an idea to completely change her appearance, it will have a totally unexpected outcome for her and her family.
I thought this was a very thought provoking story. I enjoyed Janie's feelings and insights on her lifestyle changes. The author made me wonder what would happen next that would change her life. I thought that there was something special about this story. What made this book unique was that I almost felt like I was Janie, because she was very open with her feelings. Janie is a very interesting character. I think she puts suspense into the story. When I think this book can't get any more thought provoking, Janie puts another question into my head. I also felt sympathy for Janie. She is the only poor girl in her school. I thought about how bad I would feel if I was the poorest girl in my school.
Hands down, I would recommend this book to anybody, no matter what age. I have read this book many times, because I love the endless thoughts the author provokes. The more you read this page turning novel, the more you won't ever want to put it down.