Scooby-Doo and the Sea Monster Scare
Written by Gail Herman
Illustrated by Duendes del Sur
Reviewed by Johnathan&Gretta (age 6)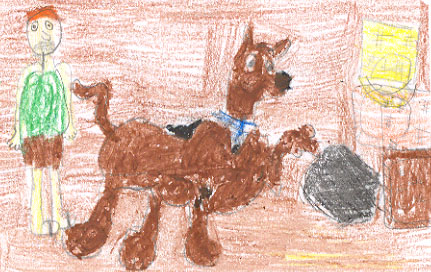 This Scooby-Doo book is about Scooby and the gang going to the beach. Scooby and Shaggy go to get food and when they come back the gang is gone. Where are they? Scooby and Shaggy think there is a sea monster about. Read this book and find out.
We really liked this book, because we like Scooby Doo. Our favorite part of the book was when Shaggy and Scooby went to the snack shack, because they looked so funny carrying all the food they bought. We like the pictures in this book because the faces are so funny. It looks like the pictures are real.
We recommend this book to kids who like Scooby Doo. This book will make you wonder where the gang is.