The Volcano Goddess Will See You Now (Zack Files Series #9)
Written by Dan Greenburg
Illustrated by Jack E. Davis
Reviewed by Annarose K. (age 8)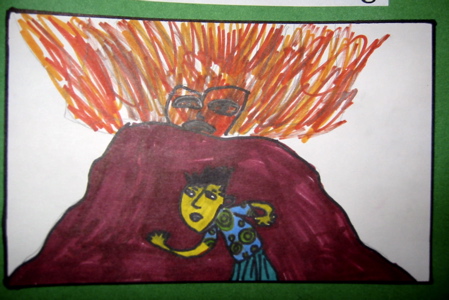 This book is about a boy named Zack and his dad and a goddess named Pele. Zack is ten-and-a-half years old. He lives in New York City. Zack goes on vacation to Hawaii, but bad things happen to him. He gets hit on his head by a coconut, his TV and minibar explode, and the goddess puts a curse on him. In the book the goddess keeps repeating ?YOU?HAVE?SOMETHING?THAT ?BELONGS?TO?ME!? Hawaii dream vacation, same thing, right? Wrong! At least, not for Zack. Will Zack survive his vacation, yes or no? Find out in this book.
I like Zack because all the things he thinks come true. I like The Volcano Goddess Will See You Now because this Zack Files book is good, funny, and exciting. I also like The Volcano Goddess because it is funny. I love this book!!!!!!!
I recommend this book for people who like adventurous books. Some parts are funny in this book and the titles are a little weird! Everything happens to Zack. Weird things happen. This Zack Files book is a great book to read!