Snowmen at Night
Written by Caralyn and Mark Buehner
Reviewed by S. H. (age 6)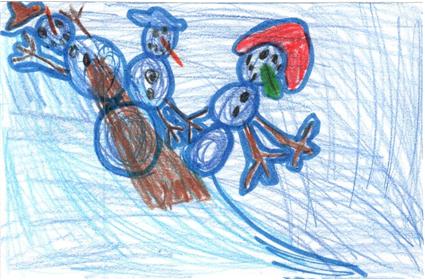 It is about a boy that built a snowman but the next day when he saw him, he was not the same. The boy thought that they do something at night. He thinks that they go into the park and have races and ice skate. In every picture you have to find four hidden pictures. In one picture it is really hard to find the hidden pictures. If you build a snowman he might look different when you look out the window in the morning.
I like the illustrations because you have to find four hidden pictures in each page. I like this book because it reminds me of playing in the snow. My favorite part was the snowmen saying "Wahoooooo!" because I like that it comes first in a sentence.
I recommend this book because it is fun, it is not real, and it has a fantastic beginning, middle and ending.