The Sky is Falling
Written by Apple Jordan
Illustrated by Disney Storybook Artists
Reviewed by S. M. (age 6)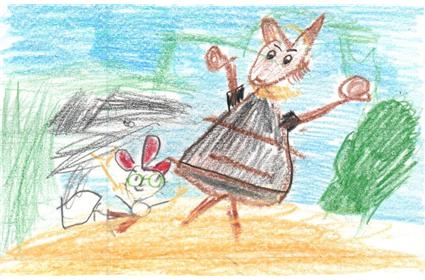 This story is about a little chicken who thinks the sky is falling! No one believed him. One night something fell into Chicken Little's bedroom and this scared him. He warned everybody about the aliens. He even went into the alien ship with his friends. Then, he rang the town bell to warn everyone about the aliens. Everyone thought Chicken Little was crazy even his father. Read this book to find out what happens to everyone.
I enjoyed this book because it has a happy ending. My favorite part was when Chicken Little wins the baseball game because he felt special and that his luck would change. My favorite character was Chicken Little because he was very special and he was funny.
I recommend this book because it is very funny, exciting, and a good book for kids to read.