Nobody Rides a Unicorn
Written by Adrian Mitchell
Illustrated by Stephen Lambert
Reviewed by L. K. (age 7)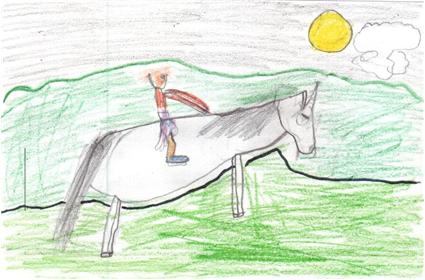 This story is about a girl named Zoe and a unicorn. The exciting part of this story is when the unicorn puts its head in the little girl's lap because she was singing very sweetly and quietly. The king and the doctor tricked Zoe and she was angry! Get this story now and find out what happens next.
I enjoyed this book because the unicorn got away. My favorite part was when the king called the little girl a little nobody. I liked Zoe and the unicorn but I didn't like the king or the doctor because they were mean. I like the illustrations because they are like magic. As I read this book I felt sad because the unicorn got caught but I was happy when the girl freed the unicorn.
I recommend this book because the unicorn gets away and it is a great book for kids and parents.