Mrs. Piggle-Wiggle
Written by Betty MacDonald
Illustrated by Hilary Knight
Reviewed by Kiyana K. (age 10)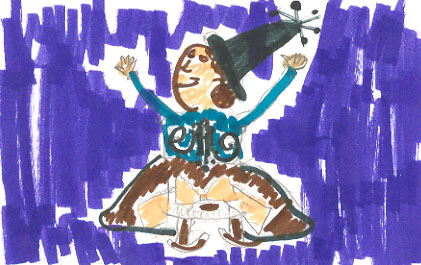 Have you ever had a bad habit you wanted to break? This entertaining and hilarious book highlights the lengths one woman, Mrs. Piggle Wiggle, will go to in order to help kids change their ways. In each chapter, she helps a new character fix their problems by giving them very odd and unusual cures. There were a lot of lessons that were learned by the children in this book. One type of medicine that Mrs. Piggle Wiggle gave the children was candy or powder. For example, when two children had a whispering problem, she gave them a lollipop and they could only whisper when they talked. The lesson learned was that they would never whisper and make people feel bad again. Another wonderful thing that Mrs. Piggle Wiggle did was that she gave parents of twins a medicine that made them argue every morning just like the kids. The kids learned to love each other instead of arguing.
My favorite part of this book was the part when everyone came to Mrs. Piggle Wiggle's house and it was full of kids. Some boys were in her back yard digging for treasure and there were some girls making tea and braiding hair. It showed me that Mrs. Piggle Wiggle is a woman who doesn't just care about the children but was a child herself, and that is what I think I like most about her. The illustrations (by Hilary Knight) are amazing. I think that they are full of emotion and light. I love them.
This isn't like any book you have ever read. It is exiting, funny, and it teaches you about how to solve problems in funny ways because even though you might not be married to a pirate, live in an upside down house, and have a buried treasure in your back yard. You can still learn about the lessons that you don't even understand you are doing.
When you read this book you will get tingles of excitement from your head to toe. You will never want to put this book down and when you finish it you will beg your parents to buy the next book. I enjoyed this book and I hope you will too.