Amber Brown is Not a Crayon
Written by Paula Danziger
Illustrated by Tony Ross
Reviewed by Eleanor A. (age 10)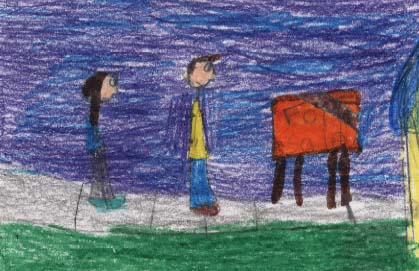 Amber Brown has an average life. Her best friend Justin is moving away. Her life went down hill after that. Before she found out, she was happy as could be. Her teacher would pretend to take them places in this book. They once went to China and ate chinese food with chopsticks. Also, she and Justin had their own huge gumball. It was a lot of chewed up gum formed into a ball. They argued over who would keep the gumball when Justin moved away. This was my favorite part of the book.
I liked how Justin and Amber shared a big gumball. I do not know of any friends that share their gum that way. My favorite character was Amber. I liked how she handled Justin moving away. At first she was angry, but in the end she accepted his move and was sad for him that he had to move away.
I recommend this book to people who's best friend is moving away. The book is very realistic because it shows how Amber felt about Justin moving away. Also, if you are in third grade it should be just right for you!