Mary-Kate and Ashley- The Case of the Surfing Secret
Written by Cathy East and Mark Dubowski
Reviewed by VP (age 8)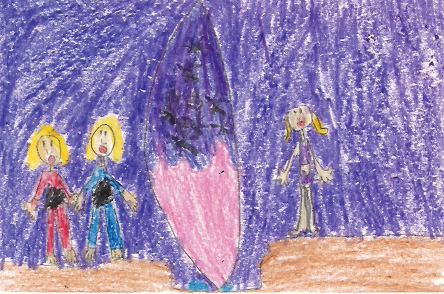 Mary-Kate and Ashley: Surfing Secrets is surprising! In the beginning, Mary-Kate and Ashley are going on vacation. They are taking surfing lessons so they can compete in a surfing contest. They met a new friend named Tiffany. When the class gets to the board room, they find that someone spilled paint on Tiffany's new surfboard! Their first suspect is their teacher, Scott. The next day, Mary-Kate and Ashley spied on Scott. When they went to the board room that day they found a note on the surf board. They found out their criminal doesn't know how to spell. During a surfing class, Tiffany gets chased by a toy shark fin. Mary-Kate and Ashley chased the boy who did it. They rode a giant wave back to shore. When they catch him, they ask him some questions. After they asked him the questions, he gave them a clue about who spilled the paint on Tiffany's surf board. He says that he was paid to chase Tiffany, and the person was going to be at the Eat-Here-Hut. After that, Mary-Kate thinks she knows who did it. Will they ever solve the mystery? Find out for yourself.
I enjoyed reading this book. It had some amazing characters. They are Mary-Kate, Ashley, and Tiffany. They are fun to read about. There were some settings I liked, too. Some of the settings are the Eat-Here-Hut, the beach, the ocean, and the pool. I would like to visit these places. This book also left me in suspense. I felt this way for many reasons. I wondered if they were ever going to solve the mystery. Or will they get hurt? Will they win the surfing contest? This was an exiting book to read.
Mary-Kate reminds me of myself. She thinks that something bad might happen when nothing does. For instance, she thinks that a giant wave is going to crush them, but it doesn't. She also thinks that they will never solve the mystery, but they do. One time, like Mary-Kate, I thought that I wouldn't get to Florida in two days, but I did. Mary-Kate is very funny. She tries to tell jokes and make people laugh. Mary-Kate also loves to make friends. Two of the friends she made are Tiffany and Jazz. I am funny and silly like Mary-Kate. Plus, I like to make friends like the two best friends I have now. I love being like Mary-Kate.
I recommend this book to someone who loves mysteries. Girls and boys would like this book. This book is a good book for people who want to be detectives when they grow up. It is also perfect for two siblings who like mysteries. So step right up and buy yourself a Mary-Kate and Ashley: Surfing Secrets book today!