Earthquakes in the Early Morning
Written by Mary Pope Osborne
Reviewed by AN (age 8)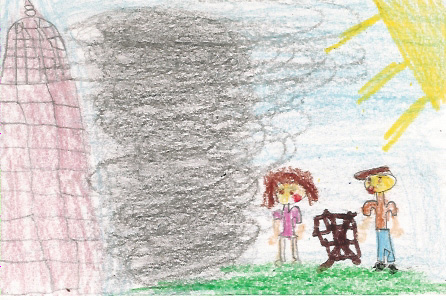 Earthquake in the Early Morning was a shaky story. Jack and Annie went to the magic tree house. It started spinning and spinning. Jack and Annie landed in San Francisco in 1906 when there was a big earthquake. People's homes were destroyed. They meet two boys and their aunt with no shoes. Then one boy gave them a note that said, "There is no water and still less soap, we have no city, but lots of hope." Jack and Annie sent them to a safe place. Then Jack and Annie went back home, and they gave Morgan, the creator of the magic tree house, the writing. After, Morgan took them to her library, and king Arthur was there. King Arthur needed the writing to save Camelot. Jack and Annie helped him. Morgan then took them back home. Will Jack and Annie save Camelot and San Francisco?
My favorite part of the story was when Jack and Annie shared their shoes with Andrew and Peter. When Jack and Annie saw the two boys with their aunt, who had no shoes and ripped clothes, Jack and Annie gave the two boys their boots. This was my favorite part because it was happy. This made me happy because if I saw someone with no shoes I would give the person my shoes. I wondered if Andrew and Peter would find somewhere safe.
I enjoyed reading Earthquake in the Early Morning. This book had great characters, exciting pictures, and really big words. This book was also scary when the earthquake was going to erupt. Jack and Annie got split up. I wonder if Jack and Annie will survive the earthquake.
Jack is a character that reminds me of my friend Emily. Jack likes to research, and Emily likes to research, too. Sometimes Jack is scared and Emily is sometimes scared. Jack and Emily love to go on adventures. Jack and Emily both had scary things happen to them. Jack was scared when the earthquake was coming, and Emily was scared when her house was on fire. That is how Jack and Emily are alike.
I recommend this book, Earthquake in the Early Morning, to people who are interested in earthquakes. If you want to know about earthquakes, you should read this book first. So, go and pick this book up and enjoy it.