Trolls Don't Ride Roller Coasters
Written by Debbie and Marcia Thorton Jones Dadey
Reviewed by AW (age 8)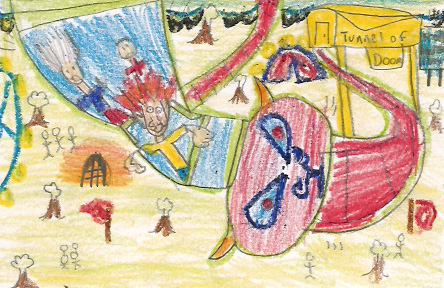 Bailey School Kids will bring you on an exciting adventure. In the beginning, Eddie hears of a new rollercoaster called the MONSTER. He forces his friends to go on with him. His friends don't want to, so they make a deal. His friends said, "If you want me to go on the MONSTER, then you're going on the Merry Go Round." So, Eddie went on the Merry Go Round. He thinks it's the most boring thing in the world. After that, they went on the MONSTER. They sat next to a weird lady. She looked very strange. Then all of a sudden the rollercoaster stopped. Then they heard a strange laugh. It sounded like a high pitched evil laugh. Then the kids get scared. The kids got off the rollercoaster. They think the lady is a troll. After that they find troll dolls and troll statues. The kids get really scared. They find a tag on a troll doll. It says, "Trick the wicked troll into doing a good deed. Then the evil troll earns a jewel and becomes a good troll who travels the land doing good deeds." How will Eddie and his friends catch the troll?
I enjoyed reading this book because it's very interesting. There are interesting characters, settings, and ideas. Eddie is an interesting character because he is realistic and adventurous. My favorite part was when they found out the lady was a troll. This book is great.
This book has very funny characters. Eddie is an annoying and mean character. He is very obnoxious. Howie is ordinary, makes a lot of jokes, and laughs pretty funny. Melody is happy, insane, and she trips a lot. Liza is smart, confident, and demanding. There are very funny characters in this book.
I recommend this book to kids who like to solve mysteries and go on adventures. This book is full of exciting descriptions that will send you out of your mind. I hope you read this book. You won't regret it.