The Great Gilly Hopkins
Written by Kathyrn Patterson
Reviewed by Alex H (age 9)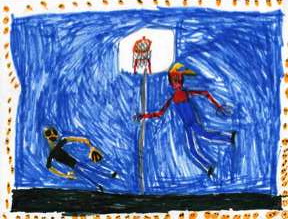 Here's a book about a girl who can beat up fifth graders! The title is The Great Gilly Hopkins. It is realistic fiction. The author is Kathryn Patterson. Gilly is 10 years old and does not get along well and has no friends because she is very rude. Gilly has to go to another foster home that is very messy because the people in it don't pick up. The plot is Gilly hates the people in her new house. She wanted to see her mother because She had been left behind. She stole stuff to get to her mom.
I also have to put up with fifth graders. Like when some 5th graders took Logan's hat. The theme is don't judge a book by its cover. Because Gilly thought the new family was ugly. I think the author likes to write realistic fiction because this book was realistic fiction. I thought the author used a lot of similies because I saw a lot. I think the author should have put in pictures because it would have helped me picture things. I think the author had a good ending because it surprised me.
I recommend this book to people who like sad books. Because it's sad. And that's The Great Gilly Hopkins!!!