Downhill Megan
Written by Trisha Magraw
Reviewed by SSG (age 9)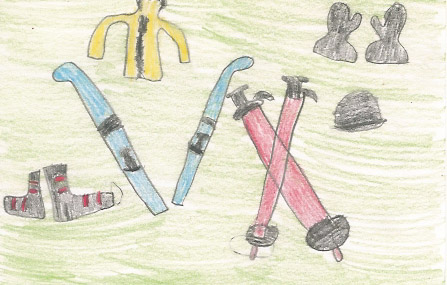 Downhill Megan is a very exciting book. In the beginning of the story Megan has to go on a ski trip. She is sad because she has to leave her three best friends behind, Kiesha, Heather, and Alison. Although she was really excited, Megan didn't know how to ski so she had to learn on her own. In the middle of the story Megan begins to ski. She goes down the easiest trail first. The trail is called the Green Circle Trail. She skis on that trail first so she could get used to skiing. On the way, she meets a girl named Lizzie Robinson. They become best friends and ski together. Megan learns how to ski even better. Now she goes on black and double black diamond trails. Those are the hardest trails. Just as they were getting off the mountain, they found out that their key to their hotel was stolen. It was up to them to catch the thieves and get the key back. Will they be able to get into their hotel room?
I felt curious as I was reading this book. The butcher for Megan's hotel gets fired. When Megan and Lizzie's parents to go out to eat, I wanted to know if their parents were going to find someone else to watch them. People kept stealing from the hotel. I wanted to find out who kept stealing from the hotel because more and more of Megan and Lizzie's parent's belongings were missing. I thought that Monsieur Boucher was the one that kept stealing because of the mug that he left in their hotel room that had his handprints on it.
Megan reminds me of myself. We love to ski. We also love to try new tricks. One day we would want to learn how to do a 360. When we're skiing we love speed. It is fun because it feels like we are going down a waterslide standing. We also love to go on vacations. We would build sand castles, dig deep, deep holes and find baby sea turtles. Everybody laughs when we joke around and are funny. We always have fun when we do that kind of stuff. That's why Megan reminds me of myself.
This story reminds me of when it was my first time skiing. I could ski a little bit, but I was really scared. I was as scared as a chicken. I didn't fall a lot. I didn't know how to get on ski lifts. Once I almost fell off the lift. My trainer had to grab me by the hand, and I was still flying in the air. They didn't even stop the lift. I didn't know how to turn, which made me go straight down so I caught a lot of speed. When I walked, the boots were very uncomfortable. Though, I'm used to the pain now. I didn't know how to put on the boots. My dad had to help me with every part of putting on the boot. I didn't know how to put the skies on either. My father told me to put the tip of the boot all the way in the front of the ski. Then he told me to push the back of the boot in the back of the ski. Since I went skiing more and more times I got better and better. Now I am really good at skiing because I ski a lot more. I hope I will still get better at skiing.
I recommend this book to all mystery lovers. This book has a lot of problems and mysteries. I think if people read this book they will really get their minds working on solving mysteries. I also think people who love to ski should read this book.