Mummies in the Morning
Written by Mary Pope Osborn
Illustrated by Sal Murdocca
Reviewed by BB (age 8)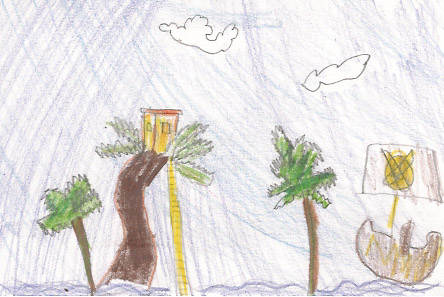 In the beginning of this story, Jack and Annie end up in a magic tree house with lots of books. Jack picks up a book about a parade. Jack says he wishes the parade would be right outside so they can watch. Soon the wind started to shake the tree house. Then it stood still. Jack and Annie looked out the window and saw the parade. A special cat was outside for Jack and Annie to follow. The cat lead them to a big pyramid. In the pyramid was a ghost queen. She told them to find the magic "M". The ghost queen taught them about hieroglyphs. Hieroglyphs are pictures that are on Egyptian walls. Jack wished he could go home, and the wind shook and so did the pyramid. They landed home safe and sound. Do you think the cat will ever come and find Annie and Jack again? Did they find the magic "M" and what it means?
This book is very interesting. One reason why is because there are magical books in the tree house. Jack and Annie can wish to go anywhere they want when they're inside the magic tree house. I think that is cool. It is amazing what they can do! Another reason why this book is so interesting is because time never goes by. The characters can travel and not have to worry about being home in time for dinner or to do their homework. I wish I could go anywhere I want without time going by.
My favorite part in this story is when Jack and Annie go find the 4 hieroglyphics with the ghost queen. Jack and Annie see a cat with a special collar. Annie disappears. She is just in a far room from Jack. The ghost disappears and she is in the room with Annie. Then Annie comes and back with the ghost queen! This was my favorite part because I wanted to find out where they were. I was a little worried. I didn't know where they could be. That part was creepy!
I recommend Mummies in the Morning to readers who want to go on a really big adventure! I had a BLAST reading this book and so will you! If you are interested in mummies, going on adventures, or ghosts come AND READ THIS BOOK !!!