Dogs Don't Wear Sneakers
Written by Laura Numeroff
Illustrated by Joe Mathieu
Reviewed by Ruben S. (age 6)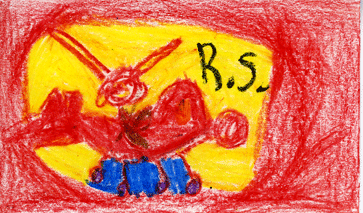 It was about animals that don't do things that they usually do. They don't wear dresses. They don't do plays. Bulls don't fly in the air on an air plane. The bears don't take baths. Rabbits don't surf. The author talked about his dreams. In these dreams he was dreaming about animals. The animals were doing funny stuff.
This book made me feel silly. I liked the part when the two frogs went on a date. My favorite character was the gnus because they were constructing a house. I liked the gnus because they had horns. There was not anything I didn't like about this book. I liked the illustrations because they were beautiful.
I would recommend this book to my two brothers, my mom, my dad, Ms. Mishkin (my teacher), and my sister. I would recommend this book because it has funny pictures. The pictures were funny because animals were doing things that people do. I think both kids and adults would like this book because it's funny. I also recommend this book to other people because it has rhyming words. For example, it says "penguins don't teach" and "rabbits don't sunbathe at your local beach". I want to read other books by Laura Numeroff.