The Snowy Day
Written by Ezra Jack Keats
Reviewed by Jonathan M. (age 6)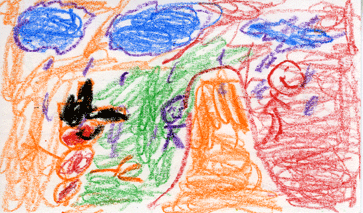 Peter woke up and it was a bunch of snow. And he went outside and made a smiling snowman and a snow angel. And he went to join the big boys during the snowball fight. He pretended he was a mountain climber and he slid all the way down on his bottom. And he bunched up a whole bunch of snow and put it in his pocket. He told his mom about adventures and before he went to bed he checked in his pocket and the snowball wasn?t there. He went to sleep and he dreamed the sun melted all the snow and when he woke up from his dream the snow was still there. He called his friend across the hall and they ate breakfast and they ran outside.
My favorite part of the book was when the big kids threw snowballs at Peter. I once had a snowball fight and it reminded me about playing with my friends. I also liked when the snow melted in his pocket. I learned how to make a snowman. I also liked it when he was climbing like a mountain-climber and he slid down the hill of snow. The pictures were nice because there were so many things on the pages and I liked the colors.
Kindergarteners would like this book because it?s funny because there are snowsuits with pointy hats and because the snow fell right on Peter?s head. Everybody will like it because it?s a great book and silly. People who like winter will like this book because the book takes place in the winter. People who like summer will like it because it will cool them down.