A Wrinkle in Time
Written by Madeline L'Engle
Illustrated by Cliff Nielson
Reviewed by Alyssa V (age 10)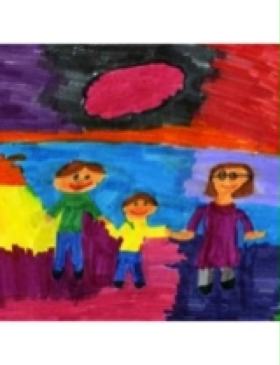 Was there a wrinkle in time or just a book that sparks your imagination and turns into a wild fire of adventures? My book can do just that if you have a good imagination. A Wrinkle In Time is about a girl named Meg, her brother, Charles and her friend, Calvin. This book is by Madelein L'engle. In the book, Charles is a small, brave and kind boy and her friend Calvin is smart and always very polite. My favorite character is Meg. Meg is hard to explain, because she always has different feelings about things, but she always tries to do what's right for the people she cares about. Most of the story takes place in the 5th dimension. It starts on Earth and then Meg, Charles and Calvin go from dimension to dimension with Mrs.Witch and her friends. But Meg has a big problem, her father has gone missing when he was studying the 5th dimension and her little brother's mind has been taken over by IT, a giant brain.
The lesson in this book is to do what is right for others. In the book, I noticed that the author did not have many pictures and her books are fantasy fiction (not real at all). She also tells alot about Meg's feelings and you can tell she spends lots of time working on visual effects in the book.
My favorite part of the book was when Mrs.Witch takes the childern to the second dimension and they almost get swashed. This book is not part of a series but the author uses many of the same characters is different books. I have not read them yet, but I plan to.
I would recommend this book to anyone who likes books with many problems. Can Meg save her little brother and her dad and bring them back to her mother and the twins on Earth? Read the book and find out!