Henry and Beezus
Written by Beverly Cleary
Illustrated by Lois Darling
Reviewed by Sallie F (age 10)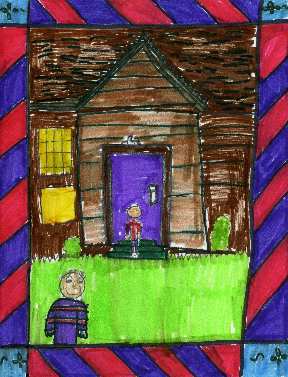 "'Come on, Come listen to this book review I wrote about Henry And Beezus.'" The book is called Henry And Beezus and the genre is Realistic Fiction. The author of Henry And Beezus is Beverly Cleary. The characters are Henry and Beezus. Henry looks like a boy with short hair like boys have. Beezus looks like a girl with short hair she wears pants and t-shirts. I think that Beezus is very nice to Henry. The setting and the plot are at a house and at a bike store and when it took place was now. The plot is that Henry wanted a bike just like this boy named Scooter. So they went to the bike bid and Beezus bid on a really girly bike and Henry got really mad at Beezus. So he got a bike, but it wasn't what he really wanted as his bike.
One of my connections that I had is that I rode my friend's bike one day. Then I said to my friend I want a bike just like that, that has blue and purple all over it just like yours. So, I feel that Henry will not get a bike just like Scooter. It will be very different maybe. The lesson is that you shouldn't want to be like someone else and you should just be yourself. The author did black and white pictures and she also did very good writing, like she put a lot of big words that are all on caps lock.
One of my thoughts is that I think Beverly Cleary was good for making this book. My reason for that is she can tell you a lot about Henry and Beezus. Also she can tell the problem good and the setting good. I think anybody would like this book because it is funny and you can learn not to be like someone just be yourself. You can go now I've told all I you need to know about Henry And Beezus.