George's Marvelous Medicine
Written by Roald Dahl
Reviewed by Madison D (age 10)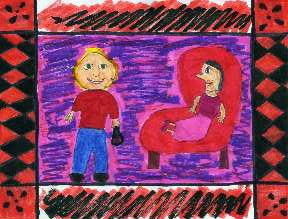 Learn about the mystical journey of George and his grandma. This book review is about George's Marvelous Medicine by Roald Dahl. The main characters are George and his grandma. His grandma is really mean, because she makes George do all of her chores. She also makes George give his grandma her medicine at 11:00. In a small village, on a farm is were the story takes place. George is a boy who has a hard life on a farm. He always wanted his grandma to disappear. But when his mom goes shopping in the market his grandma has to watch him. She makes him be nice to her. So George takes his grandma's medicine and puts lots of stuff in it. In the end of the book George gets surprised by a prank he pulled on his grandma.
I've pulled a prank before and regretted it. Have you? In the book there two themes or lessons. One of them is don't pull pranks on each other; and be nice, don't be rude or selfish because if you do you will have no friends or anyone to play with. I liked how Roald Dahl had lots of similes like when he said "she shot out of the roof like a rocket", because it gives a visual effect on whats happening in the book.
My brother reminds me of George, because he likes making weird medicine like George did. My favorite part was when George gives his grandma the medicine, because of her reaction. Read the book to find out what her reaction was.
I recommend this book to whoever likes a surprise ending. This book has lots of things that pop up without anyone to expect it. If you want to know what happend to George's grandma, read the book and find out.