George's Marvelous Medicine
Written by Roald Dahl
Reviewed by George B (age 10)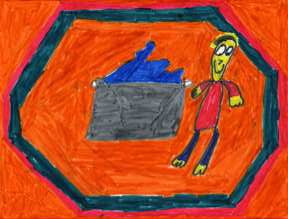 I read George's Marvelous Medicine. This story is about a kid who makes a marvelous medicine for his witch like grandmother who tells him he should eat more slugs, when he was left alone with her. George does a lot of mixing and potion making. He makes his Grandma grow really big! So George's dad wanted the formula of this medicine so he could be famous for his gigantic animals. I think he will make a fortune and wipe world hunger because one squirt of milk from a large cow would fill three buckets. Read and find out what happens.
In this book George is like me, because George likes to make concoctions and so do I. It is fun to see what happens when you mix two things. My favorite character is George because his name is my name and he's funny. My favorite part is when George's medicine makes George's grandma grow as high as the sky, because of all the strange stuff in the medicine she took. She grew so tall she had to sleep in the barn! I liked all the fantasy in this book, because it made the book funny!
I would recommend this book for kids who like fantasy fiction, because this book has a lot of fantasy and fiction in it. I think 4th and 5th graders who like to imagine things and who like to laugh should read this book.