Helen Keller
Written by Margo Lundell
Reviewed by Ammar A (age 9)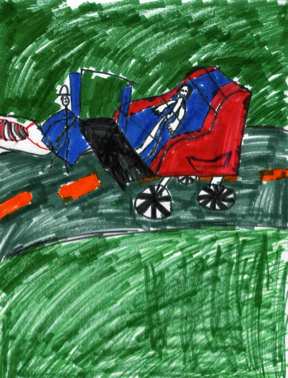 The book is Helen Keller by Katherine E. Wilkie. It is a biography book. Helen was always sad because she was ill which made her deaf, blind and dumb: which meant she couldn't talk or listen or see. That happened to Helen since she was born. Her mother and father were very sad and happy at the same time because they could see Helen alive and this is what mattered to them.
I think I really liked how the pictures were detailed because the pictures didn't just tell what Helen did it how it happened the pictures showed how Helen was feeling and the main thing was Helen was feeling an expression. I think the author used very good details because she used slow down the moment details. I think that Helen was pretty happy she accomplished something people don't believe could happen. I thought Helen was really spirited because she really wanted to live and not die. I liked the book because it was engaging and funny. She almost died because of her illness, but her bravery kept her able to live for the rest of her adventurous life. One day Helen met a beloved teacher, Anne Sullivan. Ms. Sullivan was the best teacher Helen ever had. She taught Helen how to read and write using hands. Helen was almost known all over the country because she traveled to many places in the United States. Helen liked Niagara Falls because in her opinion she thought that the noise of the falls made Helen solemn. One of the days that Helen was very sad was the day when her beloved teacher, Ms. Sullivan, died. That was when Helen was in college.
I recommend this book to anyone who likes biography books. This book also has a sense of humor in it. This book is very interesting as well, and it shows that nothing can stop a person from achieving his or her goals.