Pinky and Rex and the School Play
Written by James Howe
Illustrated by Melissa Sweet
Reviewed by Sarah W. (age 7)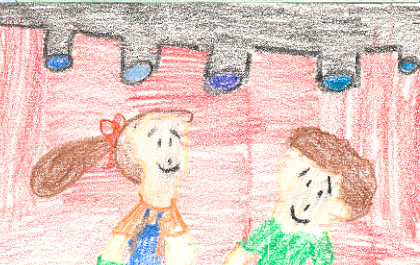 In the beginning, Pinky wants a part in the school play. Right before the play, Pinky drinks 10 milk cartons because he is nervous for the play tryouts. Pinky thinks that the try outs are going to be a test, but it isn't. He has to say some lines out loud. Pinky gets mad when Rex gets the part he wanted. Pinky gets so mad he doesn't want to be friends anymore with Rex. In the end it all works out and they are friends again.
I like when they perform in the auditorium because it is an exciting part of the story. I also like this part because Rex's outfit is really interesting. My favorite characters are Rex and Pinky because they were characters that I can relate to. I can relate to this book because of the friends fighting. The pictures do help to tell the story and they are very colorful.
I think others should read this book because it teaches you to not fight with your friends.