Pirate Pete
Written by Kim Kennedy
Illustrated by Doug Kennedy
Reviewed by Robert K. (age 7)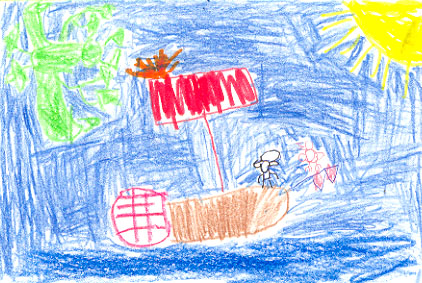 Set sail for Mermaid Island! Pirate Pete and his parrot are greedy for the treasure. In the story, Pirate Pete travels from Candy Island to Mermaid Island. At each island, Pirate Pete stops to rob as much gold as possible. In the end, Pirate Pete gets captured by the Queen and she leaves him and his parrot at the island. She forgot to take away his boat, so he really is not trapped. This book has a lot of good humor in it!
My favorite part of the story is when the leprachaun's pot of gold turns out to be Irish stew. It is very funny. My favorite character is the parrot. He does not talk that much, but you can tell what he is thinking. This story relates to my life because I am always looking for adventure. I like money as much as Pirate Pete and I like swords too!
This book has pictures and they help to make the story more interesting. I think that others should read this book because it is very interesting and humorous.