The Hunchback of Notre Dame
Written by Dandi
Illustrated by Dandi
Reviewed by Jairo T. (age 7)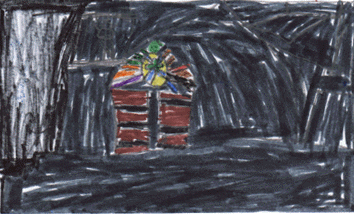 The story is about a giant who is kind. He always likes to smile. One day a lady was playing with her goat. A bad man did not like her to play with the goat near his castle. One day the giant came to visit her. Suddenly the bad man appeared to them. The giant got scared so he ran away. The lady punched the bad man on the face and he fell down. He got upset so he took the lady and imprisoned her in his castle. The giant climbed up the wall of the castle. He saved the lady.
This book taught me a lesson about friendship and kindness. I like the lady because she did not worry about how the giant looked. She liked him for his gentleness and kindness.
My favorite part of the story was when the lady punched the bad man in the face. I think other children should read this book because it teaches you how to be kind to other people. It also has a lot of fun parts.