Molly Moon's Incredible Book of Hypnotism
Written by Georgia Byng
Reviewed by Jacquelyn D. (age 10)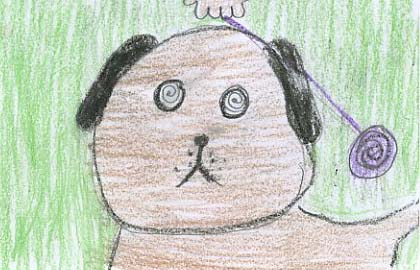 "Where did she go?" These are the words of Molly Moon, the orphan. Her life couldn't be worse. That is, until one day at the library, she discovers an old book that changes her life. She becomes as famous as a "fabulous" actress, as "exhilarating" as a singer, and even as "excellent" as a dancer. She is finally happy until something very special to her is stolen. What will she do?
I found Molly Moon quite interesting because she was very brave to tried and trick the country into thinking she was famous. I think that the cover's illustration was great because it makes you wonder what the book is about. The cover has an illustration of a hypnotized dog. As I read the book, I wondered why Molly Moon was risking her life by robbing a bank for a dog's life. I felt really bad for the puppy, who knew death was really close. Something special or unique about this book is that I have never read a book with a similar plot. Along with being new, it was a wonderful idea!
I think that this book would be wonderful for children who like to read suspenseful, exhilarating and funny books. It would be a favorite for dog lovers, too. Get ready for a book of your lifetime!