Chrysanthemum
Written by Kevin Henkes
Illustrated by Kevin Henkes
Reviewed by Karissa D. (age 7)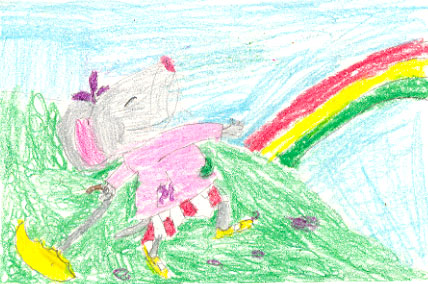 This story is about a little girl named Chrysanthemum. Her parents named her that because they thought it was the perfect name for their perfect daughter. When she started school, some kids made fun of her name. They thought it was weird that she had so many letters in her name and that she was named after a flower. Then, the music teacher at school told the class that she was named after a flower called Delphinium. Chrysanthemum felt good because she was not the only one named after a flower. After that, the kids did not tease her any more.
In the story, I liked when the music teacher told the kids that she was named after a flower too. It made Chrysanthemum feel normal. My favorite character is Chrysanthemum because she is a very sweet girl. My least favorite character is Victoria because she is mean to Chrysanthemum.
This story relates to my life because I have to go to school and the kids sometimes tease each other and some kids feel bad. I don't like it when kids are mean to each other. The pictures help tell the story because it shows the way people look when they are happy and sad.
I think that others should read this story because it teaches you to treat people the way you want them to treat you!