Biscuit's New Trick
Written by Alyssa Satin Capucilli
Illustrated by Pat Schories
Reviewed by Azi D. (age 8)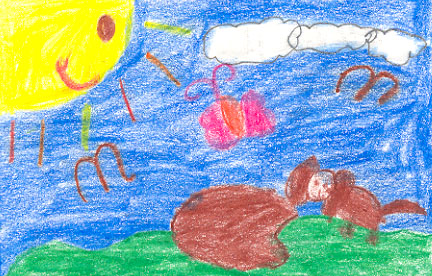 In the beginning, Biscuit and his owner were fetching the ball. Then, Biscuit saw some toilet paper behind his dog house. He went to get it. When he got it, he spotted a black and white cat and started to chase it. Biscuit went in the mud again! Then his owner said, "Biscuit!!!" and they went back home. Biscuit found another mud pile. He went inside the mud again and again. Biscuit is a crazy dog.
My favorite part of the story is when Biscuit goes in the mud because he looks really funny. My favorite character is Biscuit because he's a playful dog. This story relates to my life because it teaches you that you should always be clean. The book has pictures and they help to tell the story.
I think that others should read this book because it is really, really hilarious!