Sam Samurai
Written by Jon Scieszka
Reviewed by Seth A. (age 9)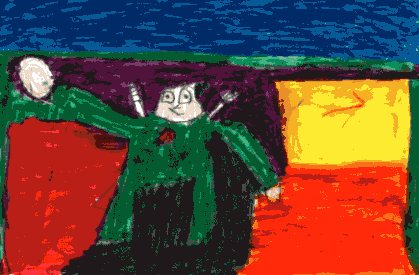 Joe, Fred, and Sam get lost in time again but this time it is in Japan! They have to do a test in order to get back home. They meet a ninja named Honda. Then they meet a empty suit of armor and Fred beats it up. Then meet a vicious gatekeeper and somehow they got through. In the samuri's house they looked eveywhere for the book, under the samuri's bead, under the samuri's pillow, under his blanket, everywhere. Joe had a idea. He said that it should be in the cupboard, but no book. At the end they found it after the gatekeeper let them in and they found it in the castle behind the gatekeeper.
This book is so awesome! Fred is my favorite character because he is kind of dumb and funny. It was great when he tried to beat up the empty suit of armor. I also like to watch them on TV! I also read the Knights of the Kitchen Table, they are similar because they go through time and have great adventures.
I recommend this book because it is cool and funny and awesome. I think that kids in third grade or above would like this story.