Summer Reading is Killing Me
Written by John Saeszka
Illustrated by Lane Smith
Reviewed by Anthony D. (age 9)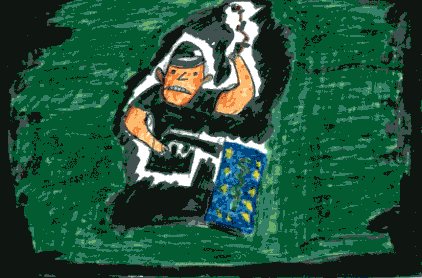 In the beginning, a spider was sending messages to the boys. Sam, Joe, and Fred had to find the book and a spider said it was at the public library in its web. When they got to the library, they got stopped by some bad guys. In the middle of the story, a troll with weird eyes and a gangster with a machine gun was going to kill them. But they told them they were the time warp trio squad and they got away. At the end a girl helped them find the book and they held off the bad books when the bad books were attacking them. Then a wisp of green mist came and they were back to normal.
My favorite part was when the gangster had a machine gun and was going to kill them because it scared them. That was hilarious! If I had a magic book like the boys had, I would go to the past to see how the people in the Indian times looked and lived. This story reminds me of my friends Donald and Spencer because we are always together, just like Fred, Joe, and Sam. We always get into trouble too.
I recommend this book because it is comical and interesting for kids. I think third grade and up can read this book.