Mr. Putter and Tabby Pick the Pears
Written by Cynthia Rylant
Illustrated by Arthur Howard
Reviewed by Madalyn C. (age 11)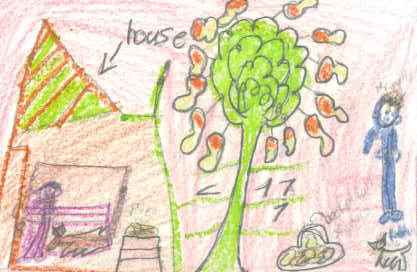 Mr. Putter and his cat Tabby went to their yard to pick out some pears to make pear jelly. Mr. Putter had tomatoes, apples, and pears growing in his yard. He wanted to make pear jelly, but he couldn?t get any pears from his tree! He could not reach the pears. He had a ladder, but he couldn?t climb it because he had cranky knees! So he made a slingshot and he threw apples that had fallen from his tree to the pear tree. He kept on missing, and the apples were all going into his neighbor?s yard! But Mr. Putter?s neighbor, Mrs. Teaberry, came to his yard and said, ?I made an apple feast!? of apple pies, apple cider, apple jelly, and apple turnovers. She gave them to Mr. Putter.
Mr. Putter decided to leave the pears on his tree until they fell down. Then, he would get his slingshot and throw the pears in Mrs. Teaberry?s yard! And then she?d take them and make pear jelly!
My opinion is that Mr. Putter was a very nice man because he took care of his garden and he took care of his cat Tabby. I think Mr. Putter is a little hilarious because he was throwing fruit in his neighbor?s yard because he wanted to make the pears fall down from his tree, but he missed! Mrs. Teaberry was very nice because she made a feast for Mr. Putter and his cat, Tabby.
I think first grade kids should read this book because it is interesting. The book is a little bit hilarious, and simple. It talks about Mr. Putter and his cat, Tabby. It talks about what they do.