The Good, The Bad and The Goofy
Written by Jon Scieszka
Illustrated by Lane Smith
Reviewed by Christian D. (age 8)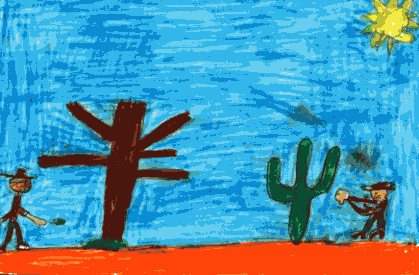 Fred, Joe and Sam go to the West where they meet cowboys and Indians. They get captured by Indians, look at the stars, and show some magic. They fight the Bluecoats that are cowboys.They get threatened by Bullbear because he wants to cut scalps off of their heads. They also fall into a river and get captured by Bullbear and his Dog soldiers. They meet two cowboys, Cooky and Bob that are setting up cattle and keep cattle moving. They are following the herd and rounding up strays. The two cowboys are going to the town of Abeline.They do a freeze spell so no one tries to shoot them with a bullet or an arrow. They make the Bluecoats stay in one place and Fred unfreezes them and they go into the future and go home. They had to get the book back from the Indians because the book disappears every time they go into the past or future.
I liked this book because it's really silly when they make up magic words, act real smart, and act real crazy.They also act real courageous, strong, and tough in the Indian Tribe. I liked when the bullet froze in midair the best. It's absurd that Sam is shocked when it froze in midair. That would only happen in books because it's not real. My favorite character is Joe. He is hilarious because he acts like his uncle. His uncle acts magical and cunning and tricky doing magic tricks.
I recommend this book because it is exciting and laughable. I think fourth grade could read this book because of the hard words.