2095
Written by Jon Scieszka
Illustrated by Lane Smith
Reviewed by Kaitlyn M. (age 9)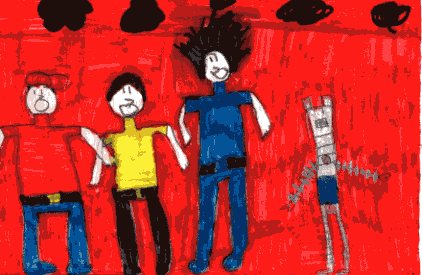 In this story Joe, Sam, and Fred were in a museum. Sam opened the book and he disappeared. Fred said ''Where's Sam?'' Then they followed him. They were looking around and a robot comes up and asks "What is your number?" Joe put in his phone number. The robot had a button that turned red it said ''Wrong number.'' The robot started chasing them. They were going all over the place. They met some girls named Samantha, Josephine, and Fredricka who were their great-grandaughters. The boys wrote a note that said ''Dear Girls, Meet us at the mueseum. From Fred, Joe, and Sam." They met at the museum and the boys said, ''Bring us back to our world.'' Then they all said ''Good-Bye.'' They signed a paper and then they all went home.
I liked the part when the robots came up to them and said, "What is your number?" I liked Sam and the robots the best because they're hilarious. I think it would be fun to be chased by robots. I felt excited about every single page. There was a lot of action so it was a great story to read.
I recommend this book because I think it is a really good book. I think third grade and up could read this book. They will really like this book because it is full of action. They will probably like it as much as I did.They will have a great time with it.