See You Later, Gladiator
Written by Jon Scieszka
Illustrated by Adam McCauley
Reviewed by Trevor M. (age 8)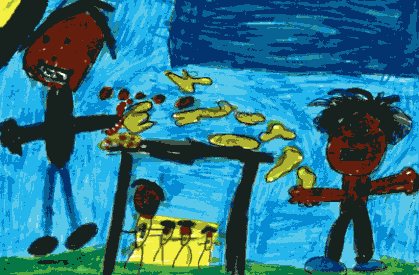 The magic book took them to the days of the gladiators. The gladiators wanted to kill Fred, Sam, and Joe. The gladiators captured the boys and told them they had to fight. They end up having to fight a professor. If the boys win, they get the professor. If the boys lose, the boys will be slaves for life. The boys win! They meet a girl who has "The Book" and then they get back home.
My favorite characters are Fred, Joe, and Sam. They were ridiculous and crazy. I liked the time they fooled the wrestlers. This is like other books by the same author. Those books were Knights Of The Kitchen Table and Sam Samurai. All of these books had Fred, Joe, and Sam in them. This story reminds me of my friends. Anthony is funny. He says stuff like he is bad, kind of like Sam. Seth is crazy, he acts more like Fred.
I recommend this book because it is comical. I think third graders could read this book.