Eldest
Written by Christopher Paolini
Illustrated by John Palencar
Reviewed by Zach S (age 10)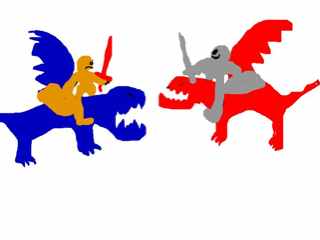 Eldest is the sequel to Eragon. Eragon is a dragon rider, opposing the Empire, serving the Varden. The Varden are a civilization that opposes the evil Empire. Eragon is sent to Du Weldenvarden (a forest) to continue his study of magic. Meanwhile, the Varden are moving to clash with the Empire. The Varden are outnumbered, but with the help of Eragon hope is still in sight. Just as the Varden are close to victory a second rider appears. While Eragon is distracted with him, two magicians start destroying the Varden. Can the Varden survive the mighty power of the Empire?! Read Eldest to find out.
In my opinion Eldest is the best book ever! I liked it because the descriptions were imaginative, the adventures were exciting, and I just really like magic and dragons. This book is pure fantasy, it has to be with mythical creatures and magic. In Eragon and Eldest there are three different languages; they're all made mostly from scratch by Christopher Paolini. I think that's amazing!
I recommend this book to older kids and younger adults. I mainly suggest it to boys, but most girls would like it. I advise students to read Eragon first, but Eldest is a great book too.