Junie B. Jones and the Stupid Smelly Bus
Written by Barbara Park
Illustrated by Denise Brunkus
Reviewed by Brandon C (age 8)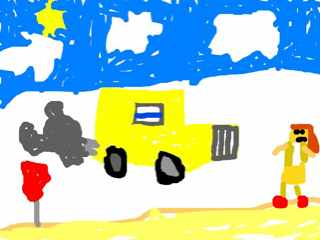 It's Junie B's first day of school and she has to ride the bus. She doesn't want to because the bus is yellow and she hates yellow. Second she doesn't want to because the bus is crowded and there are a lot of fumes. This book teaches about riding the bus.
My favorite character is Junie B, because she is so hilarious and sensitive. My favorite part is when Junie B has to go to the bathroom and it's locked, and she calls the fire department. My other favorite part is when she hides in the office and tries to stand on crutches and falls off, on the wood table.
I'd recommend this book to a 1st and 2nd grader because it's more appropriate and it's right in their reading level. This book would be good for people who don't ride the bus because it would be interesting learning. People who do ride the bus might think it's funny.