Spot's Windy Day
Written by Eric Hill
Illustrated by Eric Hill
Reviewed by Addison and Mia (age 6)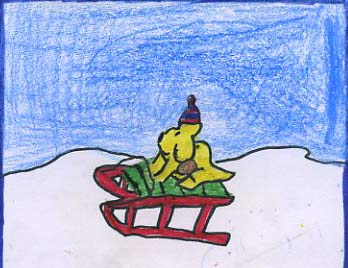 This story is about a dog named Spot. Spot decides to fly his kite. Spot smells something! It snows, and Spot plays in the snow. What will Spot do next?
Our favorite character is Spot. We liked it when Steve made a snowdog that looked like Spot. There are many other stories by Eric Hill that have Spot in them as the main character. Some of the Spot books have lift the flap to find out what Spot is doing. The Spot books are funny and Spot always learns something. Eric Hill did the illustrations for this book. Spot reminds me of my dog, because he is yellow, but my dog can't really fly a kite. I could make a snowdog of my dog if we get enough snow.
I recommend this book to kindergarteners and first graders because it is an easy reader and they can read it themselves, and pictures are big. I think everyone who likes Spot will like this book because Spot is on every page.