Kaya's Hero
Written by Janet Shaw
Illustrated by Bill Farhsworth
Reviewed by Megan S (age 8)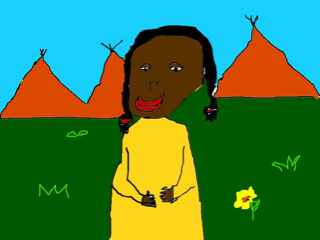 Kaya's Hero is about an Indian girl named Kaya who learns to think of others before herself. A warrior woman named Swan Circling is Kaya's first friend who understands Kaya, and Kaya learns many lessons from her. It is Kaya's fault she and Speaking Rain where taken captive. Swan Circling dies and gives Kaya her name. Kaya wants to live up to her new name.
I like this book because of the daring characters. An example of a daring character is when Swan Circling stands in front of a runaway horse and the horse magically stops so the baby is saved. In this book the main character learns a hard lesson because of a mistake she made. I like that this book teaches lessons. I also liked the many descriptions of the characters and animals, and the illustrations were really good too.
I think people who like bittersweet but happy endings would like this book. I think girls would like this book more than boys.