Because of Winn Dixie
Written by Kate DiCamillo
Reviewed by Rebecca G (age 8)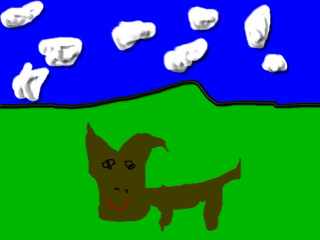 This is a story about a girl named Opal who finds a dog at a store called Winn Dixie. She was only supposed to get tomatoes, but Opal came back to the trailer park where she lived with a dog! Will Opal be able to keep the dog? Read it to find out.
I like this book because Winn Dixie is funny, especially when he smiles. My favorite part is when Winn Dixie catches a mouse in the church where Opal's dad preaches. Winn Dixie reminds me of my family's first dog Zorro, because he smiled and showed his teeth a lot.
I recommend this book to all people who love dogs, because Winn Dixie would be a great dog to have! But not when it is raining because Winn Dixie would go crazy.