Happy Birthday Biscuit
Written by Alyssa Satin Capucilli
Illustrated by Pat Schories
Reviewed by Kristal R. (age 7)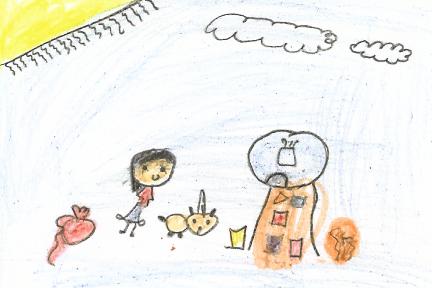 The girl woke up Biscuit because it?s his birthday and Biscuit said, ?Woof, woof!? Then the girl gave Biscuit his birthday hat and he felt happy like the girl. The girl called Biscuit to come with her and Biscuit saw his friends. Then Biscuit opened his presents. There were food and toys for him.
I thought the book was nice because the girl said to Biscuit that it was his birthday and his friends came in for his birthday party on the day. They were eating cat food and dog food and Biscuit opened his birthday presents. He was very happy. I liked the book because I thought the book was funny because Biscuit's balloons were up. And Biscuit was eating dog food with his friends, the cat and dog. The cat was eating cat food. It was nice to share the food.
I will recommend this book to my family because they like dogs and to my brother because my brother likes little dogs like Biscuit.