Max's Dragon Shirt
Written by Rosemary Wells
Reviewed by Melissa L. (age 7)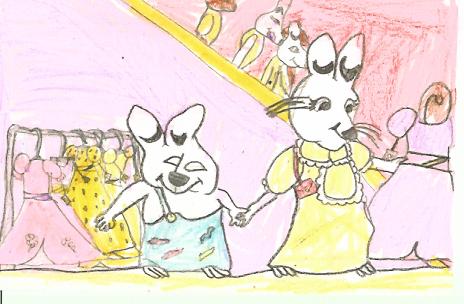 Max loved his old blue pants more than anything. His sister Ruby said, ?those are disgusting pants.? Ruby and Max went on the bus to the store to buy Max brand-new pants. But Max wanted a dragon shirt. Ruby said, ?There are only five dollars.? Max fell asleep while Ruby tried on lots of dresses. Max woke up, and Ruby was gone! Max thought he saw Ruby. He followed her. It wasn?t Ruby, it was a woman with funny-looking earrings. Max put on a dragon shirt.
Ruby found out that Max was gone, so she started looking for him. She found him in the dragon shirt, with ice cream on it! Max got the ice cream from the policeman. They had to buy the shirt because Max had gotten ice cream on it. Max spent five dollars on the shirt, so they didn?t have any money for pants.
I like the book because Max eats ice cream. I thought the book was messy because Max was messy in his dragon shirt! My favorite part was when Ruby tries on some beautiful dresses. I liked to draw the dresses.
I think my dad would like this book because he likes dragons, too!