The Great Pumpkin Strikes Again
Written by Justine and Ron Fontes
Illustrated by Tom Brannon
Reviewed by Jimmy M. (age 7)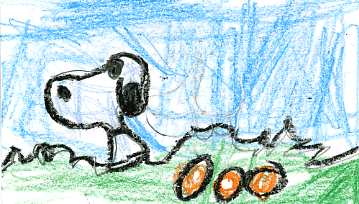 Linus thinks there is a Great Pumpkin that only visits sincere pumpkin patchers. Every year he waits for the Great Pumpkin to appear. Peppermint Patty is the only one who believes him and stays with him. This year the Great Pumpkin went to New Jersey, but Linus believes he'll visit next year.
My favorite part of the story is when Snoopy waits in the pumpkin patch because he wears sunglasses and it is funny. Snoopy is my favorite character because he is hilarious. Lucy is my least favorite because she is selfish. This story relates to my life because I like Halloween too. I really like the pictures in this story because they help me to see the characters.
I think others should read this book because it is funny and it will make you laugh.