The Joy of a Peanuts Christmas
Written by Charles Schultz
Illustrated by Susan Van Horn
Reviewed by Kenneth M. (age 8)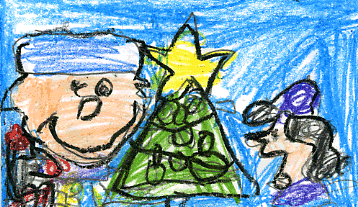 Franklin and Charlie Brown met at the beach. They went to different schools and played on opposing baseball teams. Marcie and Peppermint Patty played on the same team as Franklin. Every Christmas Peppermint Patty, Marcie, Charlie Brown and Franklin were invited to the same Christmas party. They soon called themselves the Peanuts gang. Franklin and Charlie Brown enjoyed going to the movies together during the school year, but nothing compared to the many joys they shared each and every Christmas toether!
My favorite part of the story is when the Peanuts gang gets together every year for Christmas because this means that friendship is very important to them. I like Franklin the most because he is friends with everyone. Lucy is my least favorite character because she is always mad. This story relates to my life because every year my family and friends spend Christmas at my house. It is really special to me. I also really like the pictures in this book because it makes it easier to understand the story.
I think people should read this story because it is about friendship and loyalty. It is a really happy story.