Junie B. Jones and a Little Monkey Business
Written by Barbara Park
Illustrated by Denise Brunkus
Reviewed by Bridget L. (age 7)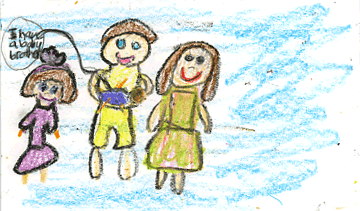 In the beginning Junie B. finds out that she is going to have a baby brother. She and her parents are going to decorate the new baby's room. She puts up wallpaper that has zoo animals on it and a crib that she thinks is a cage. That's where Junie B. gets the idea that she is going to have a "monkey" brother. When Grandma Miller comes back from the hospital she says, "He's the cutest little monkey ever." Then Junie B. tells everyone about her "monkey" brother. Lucille and Grace give her gifts to see him first, but then she finds out that he isn't really a monkey. Her teacher says to give the gifts back and she does. At the end she ends up liking her new brother named Ollie, even though he isn't a real monkey!
My favorite part of the story is when Junie B. says she had a "monkey" brother. Her friends Lucille and Grace give her gifts to see him first. This is a really funny part in the book. My favorite character in this story is Grace because she is nice and a good friend. My least favorite character is Meanie Jim because he always teases Junie B. This story relates to my life because it takes place at school and is about a girl and her friends. It does not relate to my life because Junie B. is in Kindergarten and has a little brother. I am in Second Grade and have an older sister. I really like the pictures in this book because they help to tell the story.
I think others should read this book because it is funny and it will make them want to read it over and over again.