The Very Busy Day
Written by Diana Hendry
Illustrated by Jane Chapman
Reviewed by Cora T. (age 6)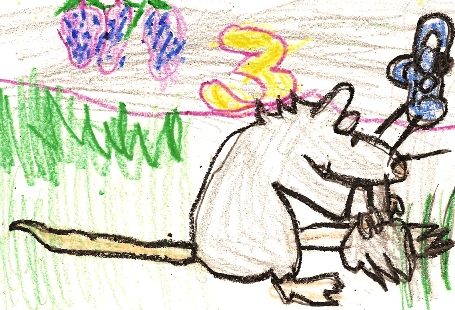 There is a Big Mouse and a Little Mouse in this story. Big Mouse is trying to dig a garden. She wants Little Mouse to help her but Little Mouse says he is too busy. He says he's busy dreaming of something. Big Mouse keeps trying to get Little Mouse to help him like planting seeds and dumping the dirt in the wheelbarrow. But Little Mouse always says he can't. It makes Big Mouse madder and madder. But Little Mouse really was making a surprise for Big Mouse.
I liked this story so much. I was really mad at Little Mouse until I saw what he made for Big Mouse. Then that made me happy. The pictures are so cool in this book because they make things like the wheelbarrow out of clothespins, a cardboard box, and a spool of thread. The clothesline is made with a spoon and a pencil. It is really fun to look at the things they use for the pictures.
Anyone who likes animal stores will want to read this book. I think it is a really funny story.