Where the Wild Things Are
Written by Maurice Sendak
Illustrated by Maurice Sendak
Reviewed by Will C. (age 6)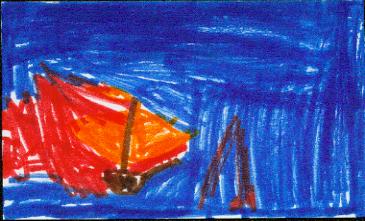 This book is about a boy named Max that was so bad he was sent to his room. Inside his imagination he sails away to where the Wild Things are. Here he gets to act however he wants, and be king. They have a rumpus. I think the monsters love him. After awhile Max gets tired and hungry. He misses home.
The best part in this story is a forest growing in his bedroom. I liked this book because the illusrations of the Wild Things are scary and Max gets to roar with the monsters.
I recommend this book because when you read it, it feels like you are dancing with the Wild Things at the rumpus. I recommend this book to first and second grade readers. It is a good book about imagination.