Molly and the Movie Star
Written by Rolf Myller
Reviewed by Christa L. (age 8)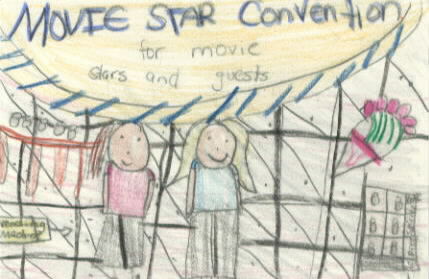 Molly is a girl who loves Melody Morre the movie star. The setting is in Molly's kitchen. Molly knows about Melody Moore's movie. She wants to see it and she wants her friends to go with her. Molly goes to a war bond selling and gets to meet Melody More. She takes a picture with her and Molly gives Melody the money in the sock to know that she saw the movie. If you like meeting movie stars then this book is definitely the right one for you.
Molly was an interesting character because she put money in a sock just so Melody Moore would know she's a fan and saw her movie. My favorite part was when Molly, Linda and Susan Molly's friends went to the movie theater and they to wait and wait because they kept leaving their spot in line and it kept getting longer but finally the stopped leaving and they finally got their tickets. I enjoyed this book because it entertained me and the characters were very funny.
You should read this book if you like reading about movie stars and going to the movies with your friends eating popcorn. This book has allotted of funny characters. You should definitely put down your other book and pick up this one now!
I think you should read this book if you like reading the American Girl Doll series. Each one has a character of one of the American Girl Dolls. This book has a lot of excitement and the characters are very funny. Molly wants movie stars to recognize her. Her friends are like that too.If you like reading about movie stars then you need to put down the book your reading now and pick this one up. You will love it just as much as I did maybe even more.