Godzilla
Written by Kimberly Weinberger
Reviewed by Mark D. (age 9)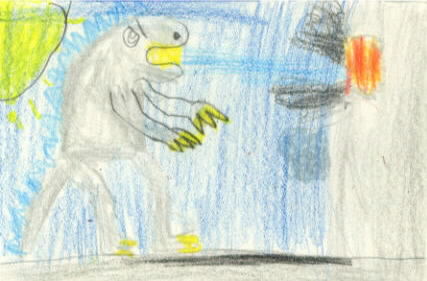 The story is about a couple of French soldiers testing a nuclear bomb that effected a hatched egg from a lizard. After several years, the lizard grew really big. It was named Godzilla! Godzilla started to attack New York City. The military started to attack Godzilla. How would you feel if you came face to face with Godzilla?
I enjoy this book because it was really scary when the pictures showed Godzilla starting to attack New York City. Godzilla reminds me of the Japanese Godzilla because they both look the same. My favorite part of the story was when Godzilla came really close to Doctor Nick because Godzilla looked really scary. I enjoyed the illustrations because they were from the movie and they were scary.
I recommend this book to people who like monster and lizard books. Adults and kids who like tough and scary things should read this book. The pictures look almost real. It will get your attention. Read this book and you will be amazed.