Junie B. Jones and the Stupid Smelly Bus
Written by Barbara Park
Illustrated by Denise Brunkus
Reviewed by Dominque S. (age 9)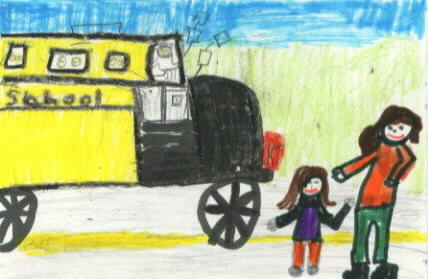 Junie B. Jones is a six year old girl who is going to meet her kindergarten teacher today. Junie B. Jones's teacher's name is Mrs. and while she finds out she has to ride the bus. After Junie B. and her class come from the nurse's office they go to the principal's office. Junie B. and her class meet the principal and Lucille (Junie B. partner) tells the principal a story about her brother. When it was time to line up for the bus, everyone was excited to leave the building and they did. But guess what? Junie did not. Read the book to find out what happened.
I enjoyed reading this book because it shows how a kid might feel for the first time riding a school bus. My favorite part was when Junie B. found a friend to ride the school bus with her. The story reminds me of time I rode the bus for the first time. I was scared too. This book was really funny because Junie B. would always tell funny jokes.
I recommend this book to people who like reading funny stories about riding school buses. You will be able to connect with this story. I think you should read this book if you like little girls that cause trouble.