Bill and Pete Go Down the Nile
Written by Tomie de Paola
Illustrated by Tomie de Paola
Reviewed by Jonah T. (age 7)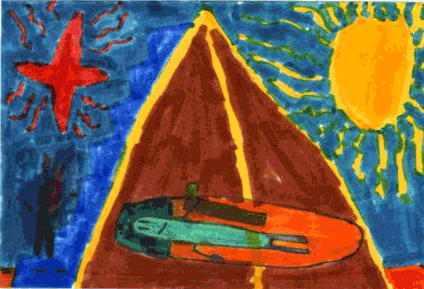 This story takes place in Egypt. It is about an alligator and a bird on a field trip on the Nile River. Bill and Pete stop the bad guy from stealing the Sacred Eye of Isis. Miss Ibis has told the class that whoever owns it has bad luck for the rest of their life.
I would like to live by the Nile River. I could go fishing and look at the Sphinx and lots of pyramids. I like Bill and Pete because they say funny things. When Bill calls the Sphinx the ?stinks?, that reminds me of when my little sister called a push-pop a ?push-up pop"! I like the illustrations because they are colorful and have lots of details. The picture of the Grand Hotel reminds me of the hotel I stayed at in Disneyland.
I recommend this book to kids and adults. they could learn about Egypt and the Nile River. In this part of the world, birds really do clean alligators? teeth!